Good morning, and welcome to out rolling coverage of the world economy, the financial markets, the eurozone and business.
BP has reported a surge in profits as the oil giant cashes in on the jump in oil and gas prices which are fuelling the cost of living crisis.
BP made an underlying replacement cost (RC) profit, its preferred earnings measure, of $4.065bn (£3bn) in the last three months of 2021 alone, up from $3.322bn in July-September.
That's almost 35 times the $115m RC profit which BP reported in Q4 2020, when the pandemic was hitting energy demand.
BP says its underlying replacement cost profit improved as a result of higher oil and gas prices and refining margins and stronger trading results.
For the full year, BP made underlying profits of $12.8bn, or £9.5bn, as it bounced back from a loss of $5.7bn in 2020 (when the pandemic hit demand and it wrote off billions of assets).
Profit attributable to bp shareholders came in at $7.565bn for 2021, up from a $20.3bn loss in 2020.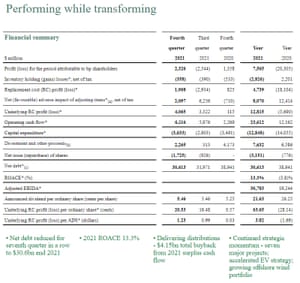 BP's results are certain to intensify calls for energy companies to face windfall taxes to help cover the impact of rising energy bills on households.
Last November, Bernard Looney, BP's CEO described the company as a "cash machine" after soaring oil and gas prices boosted profits.
This morning, Looney says:
2021 shows bp doing what we said we would – performing while transforming.

We've strengthened the balance sheet and grown returns. We're delivering distributions to shareholders with $4.15 billion of buybacks announced and the dividend increased.

And we're investing for the future. We've made strong progress in our transformation to an integrated energy company: focusing and high grading our hydrocarbons business, growing in convenience and mobility and building with discipline a low carbon energy business – now with over 5GW in offshore wind projects – and significant opportunities in hydrogen.
Those high energy prices mean UK households will face a record energy bill increase of 54% from April after the regulator lifted the cap on default tariffs to £1,971.
Later this morning MPs on the Business, Energy and Industrial Strategy (BEIS) Committee will question Jonathan Brearley, CEO of regulator Ofgem, on the energy price cap, and the impact it has on household energy bills.
The other big news of the morning is that SoftBank's sale of UK-based chip designer Arm to Nvidia has collapsed, after regulators in the UK, the United States and Europe raised serious concerns that the "largest semiconductor chip merger in history" would hurt competition.
The two sides agreed to terminate the deal because of "significant regulatory challenges preventing the consummation of the transaction, despite good faith efforts by the parties," SoftBank said in a statement (via Bloomberg).
Softbank is now aiming to float Cambridge-based Arm on a stock market.
The failure of the deal is a major setback to the Japanese conglomerate's efforts to generate funds, at time when valuations across its portfolio are under pressure.
Arm also announced that Rene Haas, head of the company's intellectual property unit, will become its chief executive, succeeding Simon Segars.
Masayoshi Son, chairman and CEO of SoftBank Group Corp, said in a statement:
"Rene is the right leader to accelerate Arm's growth as the company looks to re-enter the public markets."
The agenda
10.30am GMT: Business Committee to question Ofgem & energy sector representatives on energy prices & the energy price cap
11am GMT: NFIB index of US business optimism for January
1.30pm GMT: US trade balance for December