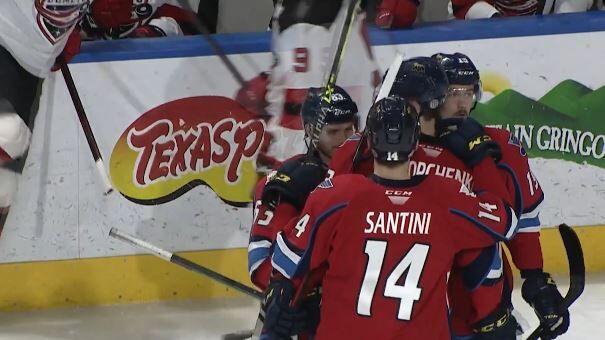 SPRINGFIELD, MA – The Utica Comets came back from a 2-0 deficit to tie the game at two, but ended up losing 3-2 to the Springfield Thunderbirds at MassMutual Center, Wednesday.
Utica found itself down 2-0 less than four minutes into the game thanks to goals by Will Bitten, 2:16 in, and former Comet Hugh McGing, 3:57 in.
The team got on the board 6:30 in, courtesy of a power play goal from Fabian Zetterlund, his 17th of the season, from Nolan Foote and Robbie Russo.
In the second, 15:47 in, Alexander Holtz lead a rush from the neutral zone and snapped a shot past Charlie Lindgren from the face-off dot for his 14th of the year. Nate Schnarr assisted on the play which tied the game at 2-2.
No one else would find the back of the net in the middle frame, but just 59 seconds into the third, Alexey Toropchenko beat Comets goalie Akira Schmid on a shot from the slot to give the T-Birds the lead back, and one they would not give up.
Schmid made 31 saves on 34 shots for the Comets in the game, as they drop to 27-7-5-0 on the season.
The team now returns home to host the Cleveland Monsters for a pair back-to-back on Friday and Saturday. Both games start at 7 p.m.